Today, automatic palletizing and depalletizing is an integral part of industrial automation and robotization in manufacturing and food processing companies. It significantly improves the speed and smoothness of production, eliminating exhausting physical work, errors and inaccuracy.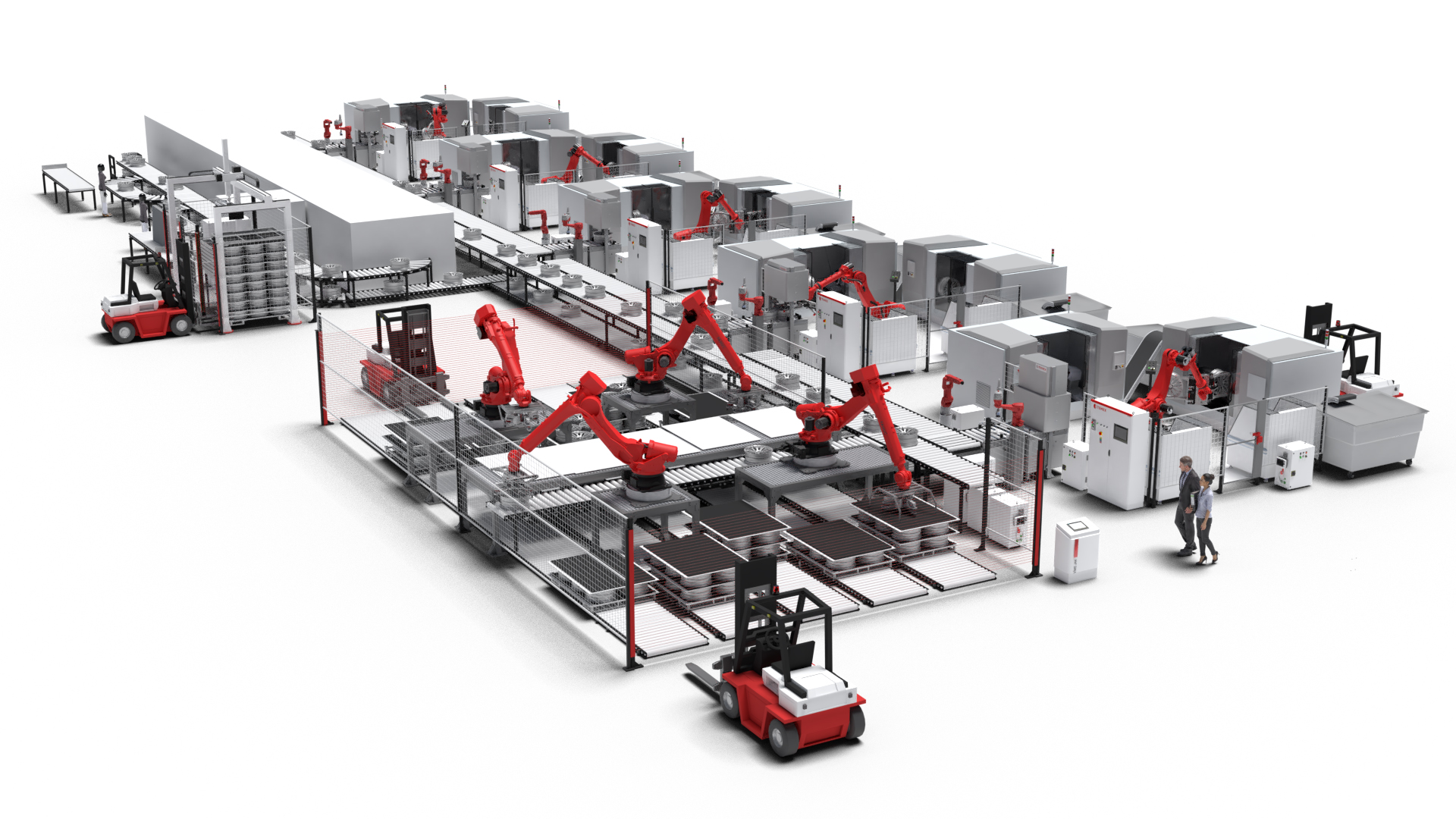 GENERAL CHARACTERISTICS
Industrial and food production nowadays requires intensive and progressive logistics - i.e. especially packaging, handling, transport and storage of goods. This is particularly why automatic palletizing and depalletizing is becoming an essential part of industrial automation in manufacturing and food processing companies. 
TEMEX develops and supplies palletizing and depalletizing solutions for almost every industry. Despite specific and non-standard customer requirements, we find simple and effective solutions that deliver high performance and reliability.
PALLETIZING
GENERAL DESCRIPTION
In principle, palletization means placing goods or products on transport pallets. In most cases, these have to be fixed by wrapping them in transparent or branded stretch film. This ensures the perfect strength of the entire pallet unit and its security during transport by truck, container, ship or aircraft. Thanks to the palletization and subsequent modern height storage technology, storage space is also saved.
TEMEX offers all conventional and modern - robotic - solutions in the field of palletization. Our palletizing systems can cope with almost all production conditions – from areas with extreme temperatures (hot and cold), through dusty plants to facilities requiring high demands on cleanliness and hygiene.
TEMEX palletizing systems offer a solution for almost any type of product – from standard small and medium sized products in traditional packaging (boxes, packages), to packaging options for non-standard products such as buckets, cans, bottles and other non-standard shapes of the final products and packaging.
TEMEX PALLETIZING LINE WITH WRAPPER


TEMEX palletizing solutions:

•    Robot palletizers – Robotic palletizing is well suited for more complicated and non-standard stacking of products on pallets. The advantage of using robots for palletizing is the ability to perform more complex movements, which are ideal for palletizing special packages (e.g. buckets with lids and handles, aluminum wheels with splines), but also in the case of palletizing packages with small gaps (cartons, etc.). This doesn't mean that robotic palletizing is inefficient - with complex gripper heads, robots can stack multiple packages at once, a whole row and sometimes even a whole layer. At the same time, robots can pick and stack empty pallets or spacers thanks to the combined gripper heads, effectively saving the cost of additional conveyors and handlers.
Key benefits
Large working range of robotic arm  ♦  Multi-line operation  ♦  Gentle and precise handling  ♦  Multitude of palletization schemes
•    Single-line palletizing solutions (end-of-line) – A solution for high volume, performance-oriented production environments where each production line is connected to a single palletizer. Particularly suitable for manufacturers of beverages, dairy products, etc.
Key benefits
Very high speed  ♦  Tailor-made solution  ♦  Minimal dimensions  ♦  Excellent reliability

•    Multi-line palletizing solutions – A solution for operating multiple production lines simultaneously. The products from the individual production lines are aggregated at the accumulation nodes, where they are then sent to the palletizer in sufficient numbers to fill the pallet. In this variant of the palletizing system, various parameters can be set, such as product mix, pallet type and size, number of layers, etc.
Key benefits
Limited number of operators  ♦  Fully automatic operation  ♦ None or minimal need for forklifts  ♦  Low ownership costs
All TEMEX palletizing systems can be supplemented with:
Conveyors
Pallet wrappers
Empty pallet stackers & destackers
AMR - autonomous mobile robots MiR
 
DEPALLETIZATION
As the name implies, depalletization is a process completely opposite to palletization. It is the removal of items stored on a pallet and their transfer to a conveyor for further production operations. 
As in the case of palletizing, the depalletizing process can deal with the removal of individual pieces (products, packages, etc.), or it can depalletize entire layers of products (jars, cans, barrels, etc.).
The result of integrating the automatic depalletizing process into the production cycle is a clear increase in the performance of the entire production and, at the same time, reduces the workload of the employees and thus humanizes their working environment.

TEMEX depalletizing solutions
| | |
| --- | --- |
|       Robotic depalletization |                   Depalletizing stations |
|       Flexible solution for multiple product types      |                   Solution for high-performance plants (beverages, food)      |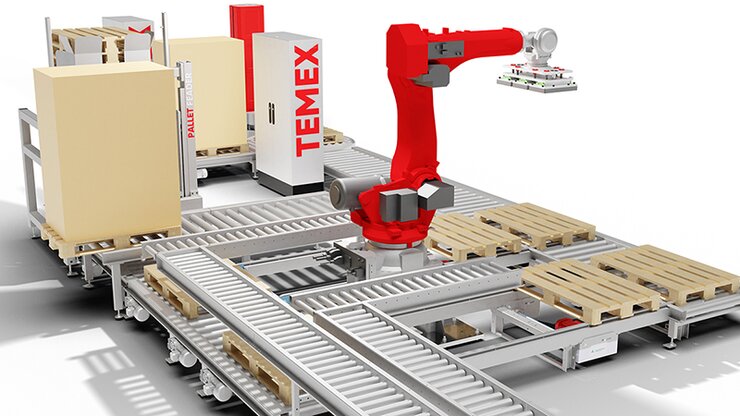 Palletising line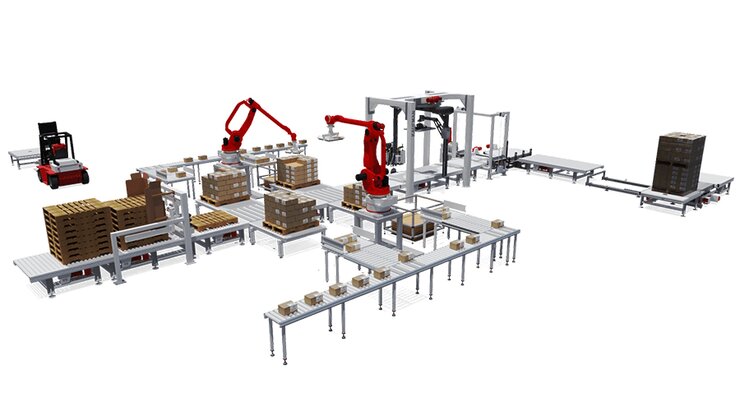 Palletizing line with wrapper (carton boxes)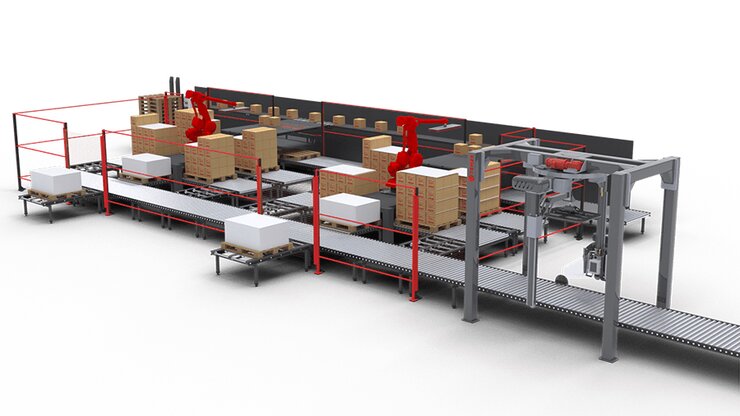 Central palletisation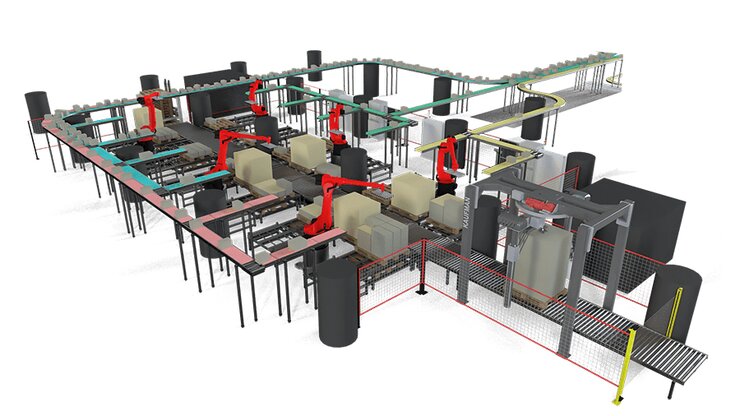 Central palletisation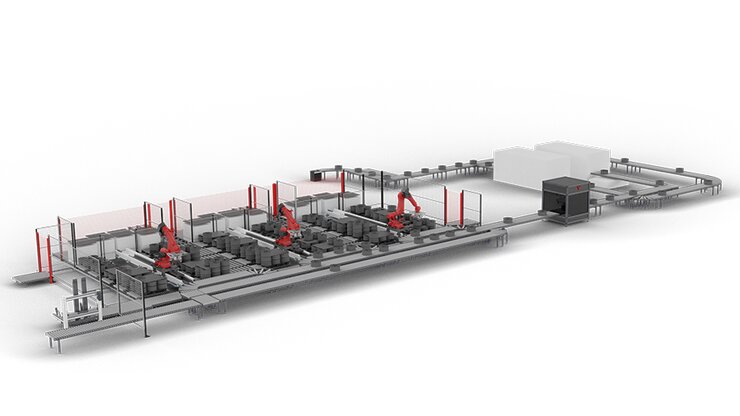 Palletizing line (ALU wheels)