Pedal system assembly line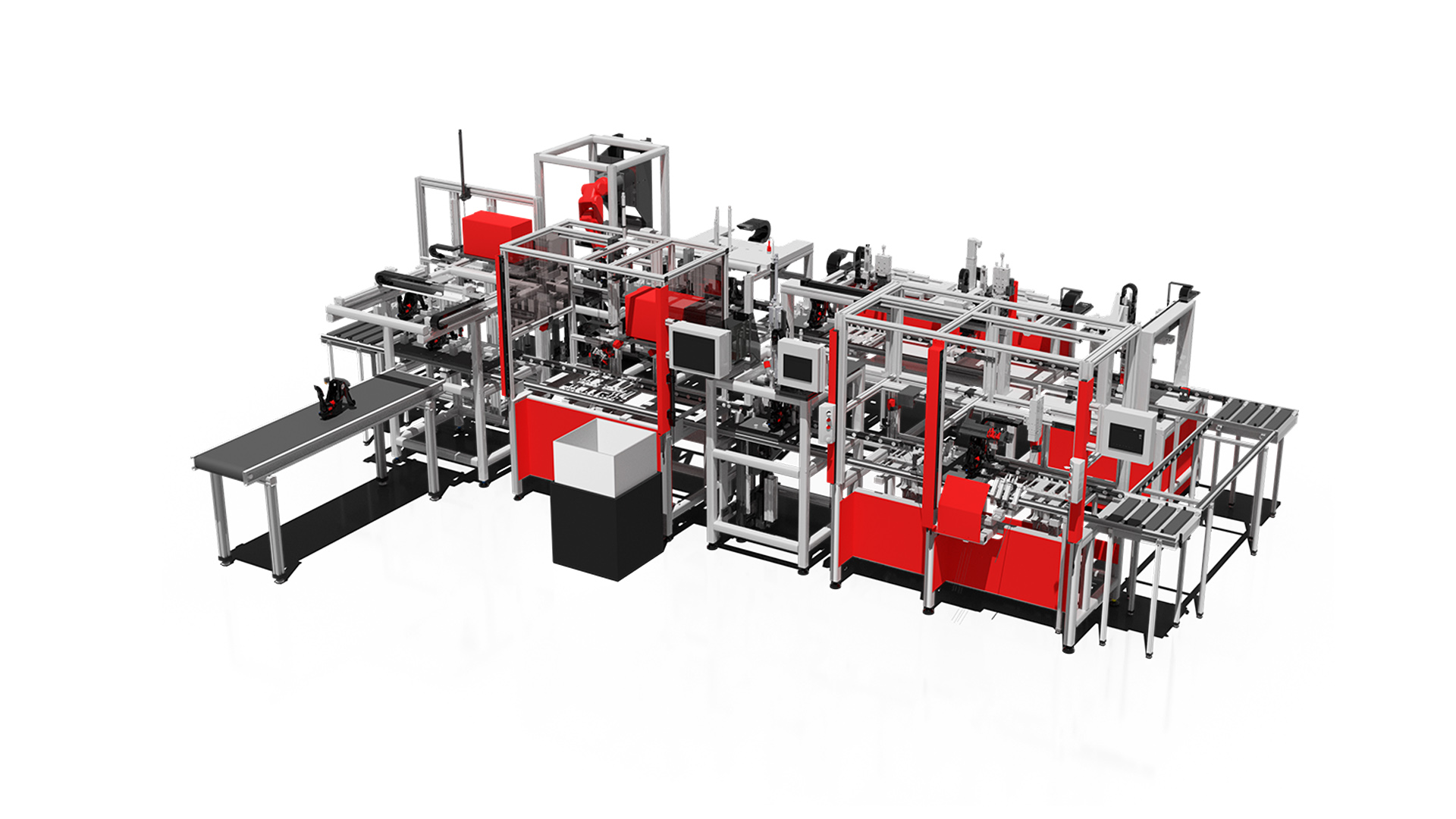 Basic parameters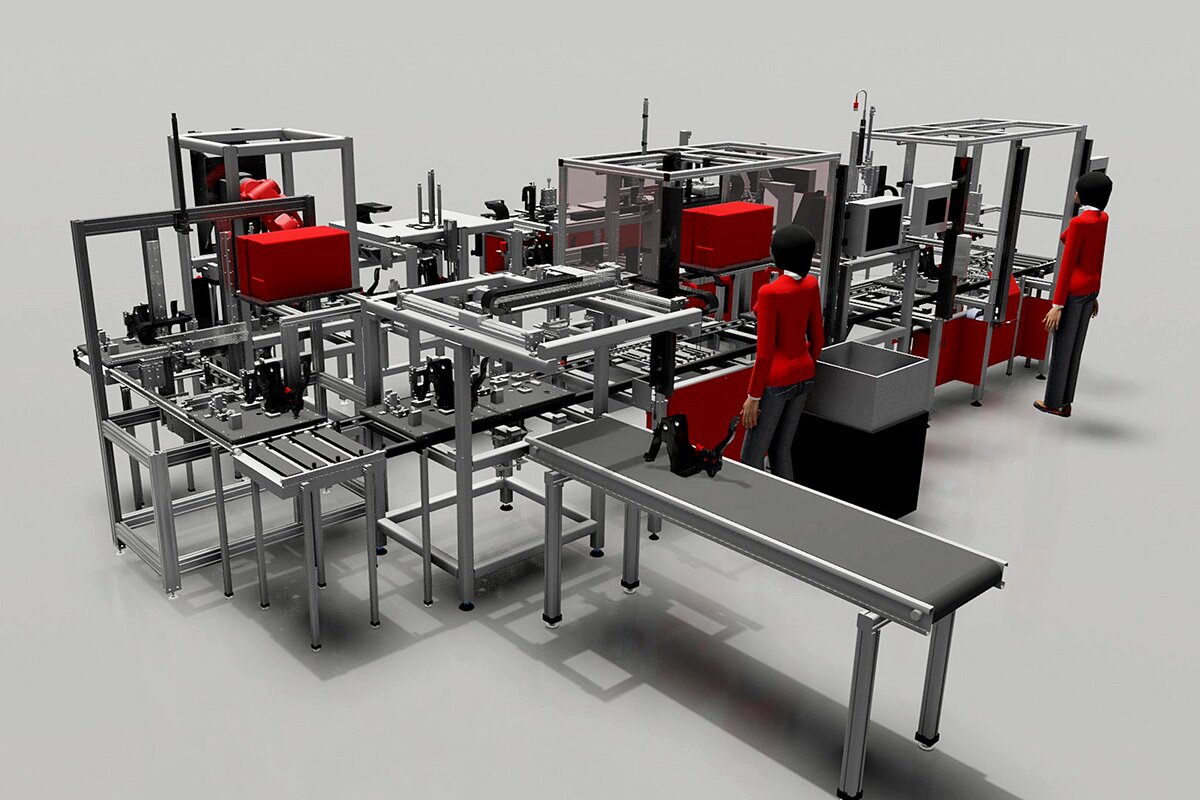 View of the visualization of the entire line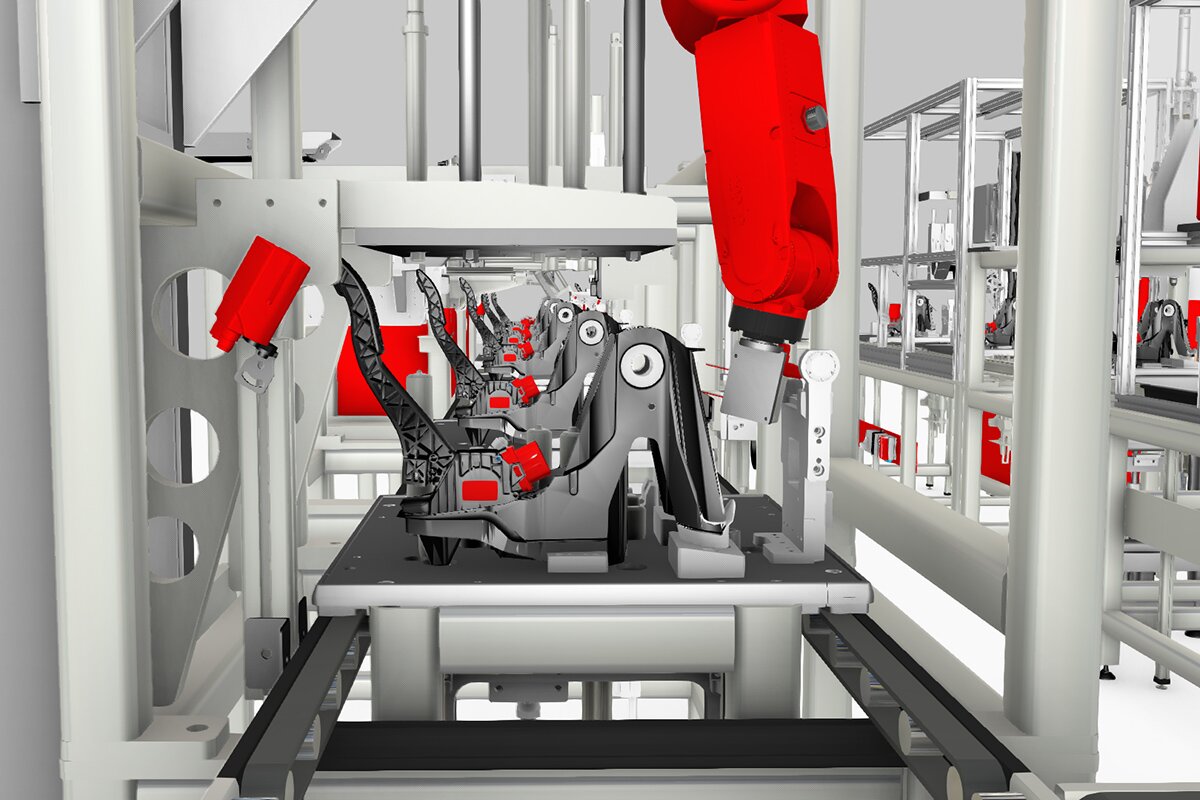 Workplace with a robot for measuring the spacing between the pedals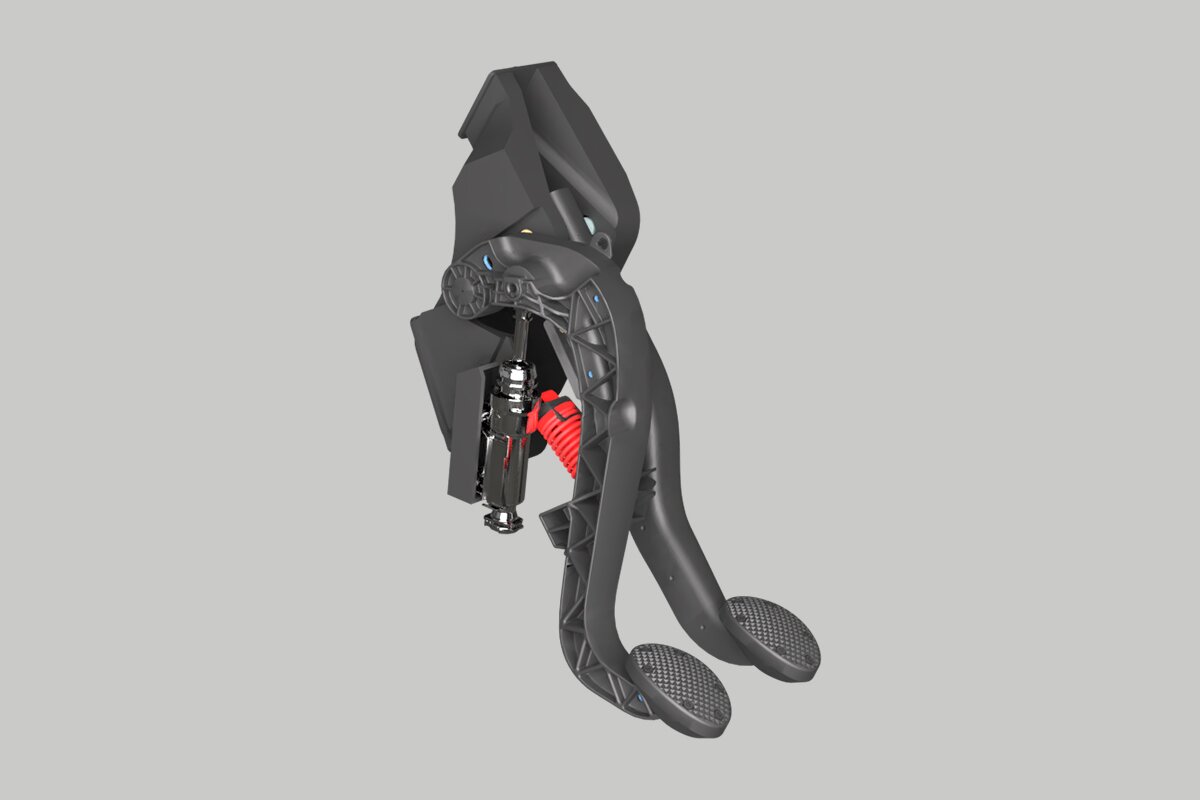 LINE FOR ASSEMBLING AND TESTING THE PEDAL SYSTEM
Name of contract:   VW MQB37
Term of delivery:     2019
SP​​​ECIFICATION:
The project was implemented at the customer's request for a semi-automatic assembly and test line for the production of the brake pedal system for the VW MQB37v project.
SOLUTION – PARAMETERS:
Line cycle:   14 sec/unit
Capacity:     15 pallets are processed at ten stations.
DESCRIPTION OF THE AUTOMATED PROCESS:
1. Three operators insert the individual components of the pallets into pre-prepared conveyor tubs.
2. At the first station, the part is automatically affixed with its own label, which is read at each station. Each pallet is equipped with RFID technology and stores data from each station in the database.
3. The entire assembly process already takes place automatically (e.g. inserting plastic bushes into the pedals and inserting the brake pedal into the bracket).
4. Using a robot and laser, we measure the spacing between the pedals, their height and width, and store them in the database.
5. The last station, the OK/NOK manipulator, scans the label and according to the evaluation of the tester puts the part onto the OK or NOK conveyor.
BASIC CHARACTERISTICS
The transport between workstations is provided by a Bosch pallet conveyor. All assembly is done automatically without operator intervention. The operator only places the parts in the pallet into POKA YOKE jigs. This eliminates any operator error. All production data is recorded in the database.
Key benefits of our solution:
All input components are detected immediately after placing them on the pallet, making it impossible to send the wrong part to the line (input parts are checked)
Eliminates human error
Eliminates work-related accidents during manual handling – assembly
Manpower savings
Reduces the financial costs for the pedal assembly
Increases work productivity
Increases the supplier's standing with the customer
Reduces the number of complaints from the end customer
Reduces QUALITY costs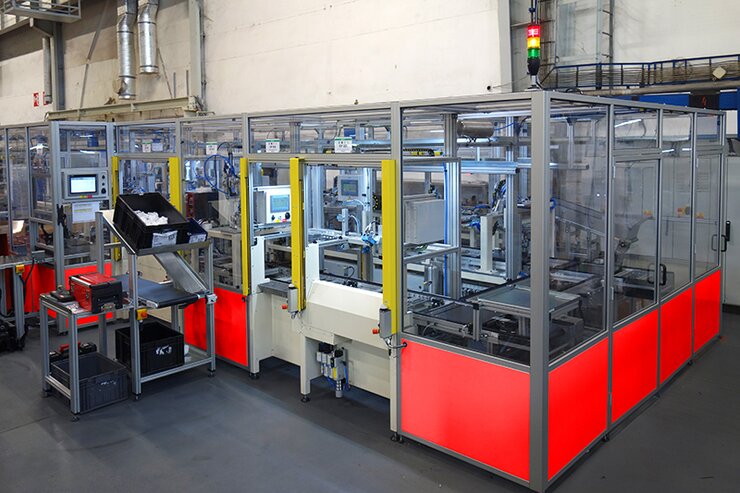 Pedal system assembly line from realization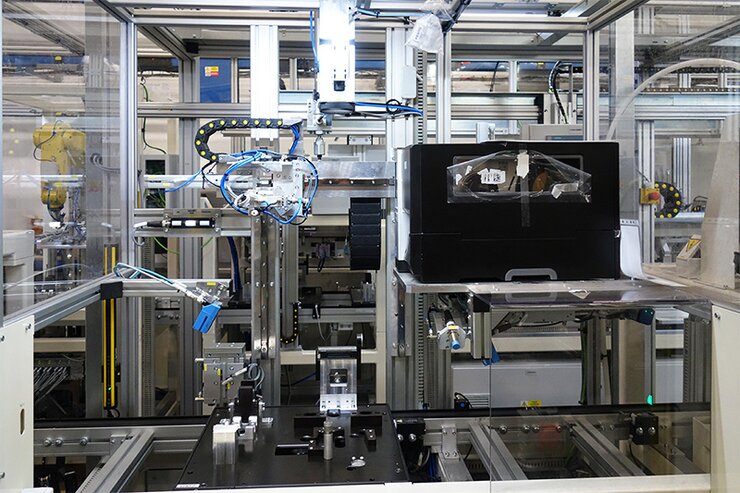 Station No. 1 - inserting the bracket + ETC pedal into the pallet and printing the label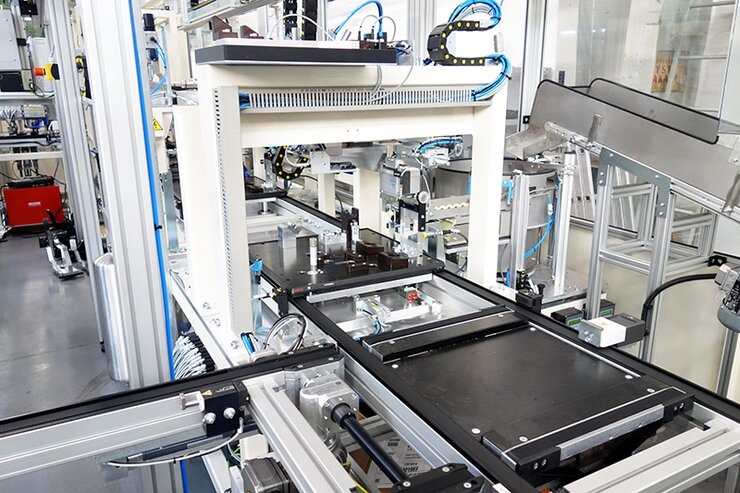 Part of the Bosch pallet conveyor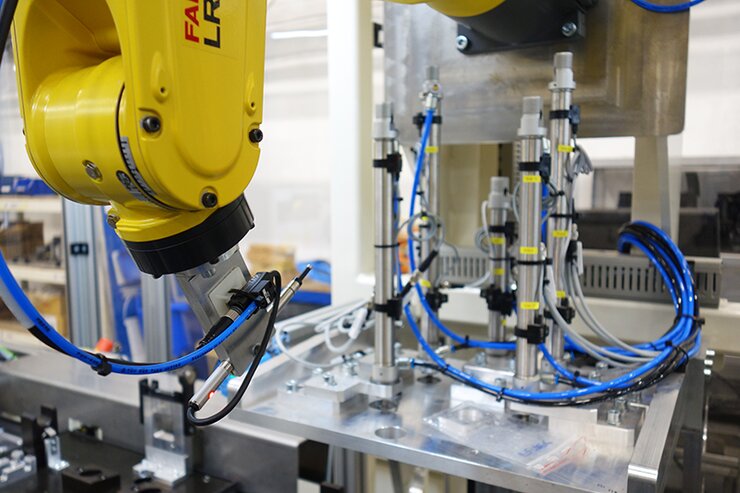 Robot for measuring the spacing between pedals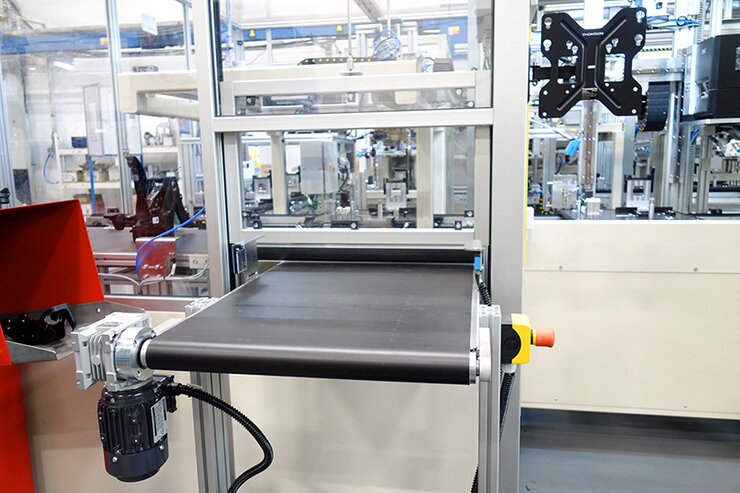 Output conveyor for OK parts