Robotic aluminium wheel machining cell
Fully automated robotic cell for perfect diamond cut of aluminium wheels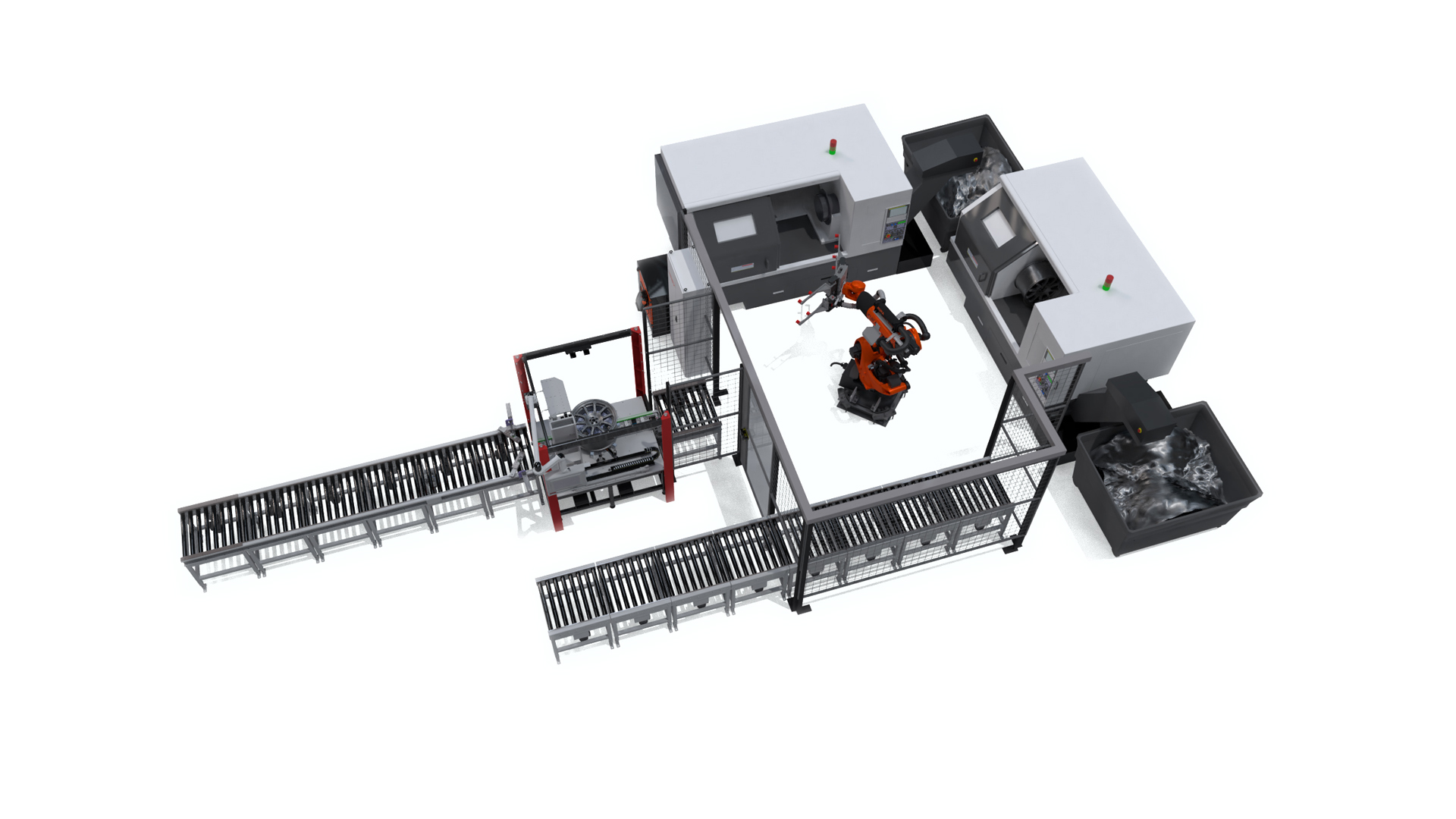 ROBOTIC ALUMINIUM WHEEL MACHINING CELL
GENERAL CHARACTERISTICS
Diamond cut is the process of aluminium wheel face machining to achieve a unique design. TEMEX, as a specialist in equipment for aluminium wheel manufacturers, is a producer and supplier of standardized robotic cell solutions to achieve perfect and precise results in the face machining of individual spokes on aluminium wheels. Our robotic cells bring acceleration and improvement to machining processes where precision is key to achieving perfect results.
ROBOTICS CELL CHARACTERISTICS
The entire robotic cell is an integrated, standardized set of individual devices that, in synergy with each other, can provide precise face machining of aluminium wheels in a fully automated manner, even in 24/7/365 mode.

The system is based on:
1. The control cabinet of the robotic cell
2. Conveyor with profilometer for wheel height measurement and valve position detection
3. Loading conveyor
4. Unloading conveyor
5. Robot with gripper head for two-wheel handling
6. Fencing with safety lock (door is located between loading and unloading conveyor)
The default cell configuration can be supplemented with other specialized equipment, such as:
• TEMEX DCMT|3D – state-of-the-art measuring device for 3D laser scanning of the aluminium wheel visual side prior to the diamond cut
• Wheel washing machine
AUTOMATED PROCESS DESCRIPTION
Painted aluminum wheels, intended for diamond cut, are fed along a loading conveyor to a profilometer and centering device. Here the wheels are oriented via the valve hole position and precisely centered.
The centered wheels are gripped by one of the robotic gripper positions and transferred to the lathe. The free position of the gripper is used to first remove the already machined wheel from the lathe and then to insert the next wheel to be machined. The finished wheel is then placed on the unloading conveyor.
If a 3D laser measuring device DCMT|3D is integrated within the cell, this station is placed as part of the loading conveyor.
FEATURES
The device is designed for: wheel diameter 14"-24", rim height 4"-13,5", wheel weight 6-35 kg
The robotic cell can operate up to two machining centers and optionally two wheel washers at the same time
The grippers are designed to handle two wheels at the same time
The entire solution emphasizes minimizing possible damage to the machined wheels
The entire cell meets the highest requirements for resistance to the effects of the used substances (corrosion, etching, etc.)
The entire workplace is ergonomically designed, with maximum emphasis on operator safety
STANDARD COMPONENTS:
Control sysytem: SIEMENS
Robots: FANUC, KUKA
Gripper: PHD
KEY BENEFITS
100% automation of the whole diamond cut production process
Standardized and tested solution
Multiple machining stations can be operated by one robot
Short cycle time = high performance of the entire cell
Working mode up to 24/7/365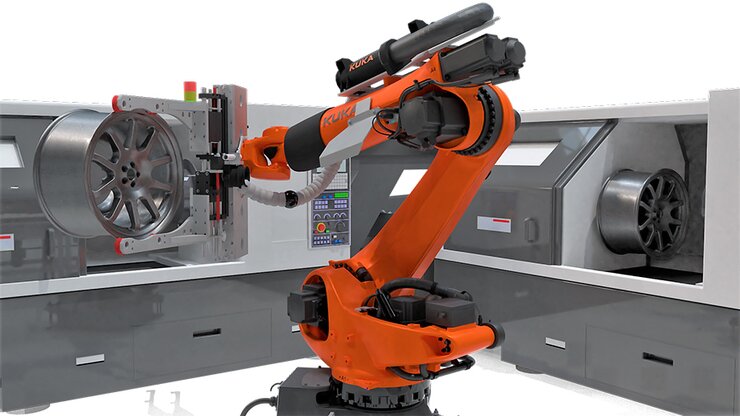 Robotic aluminium wheel machining cell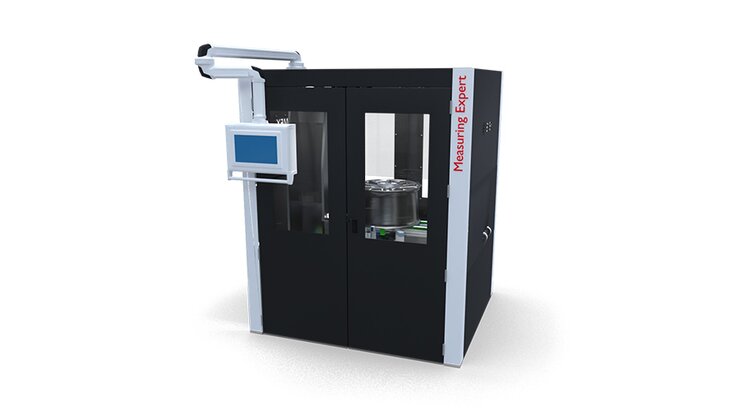 3D laser measuring device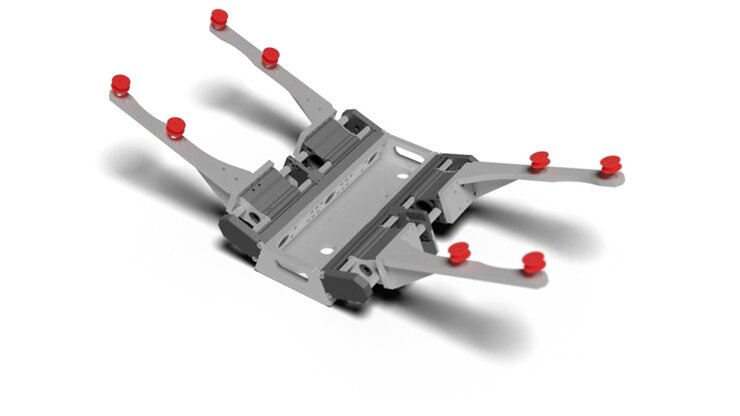 Gripper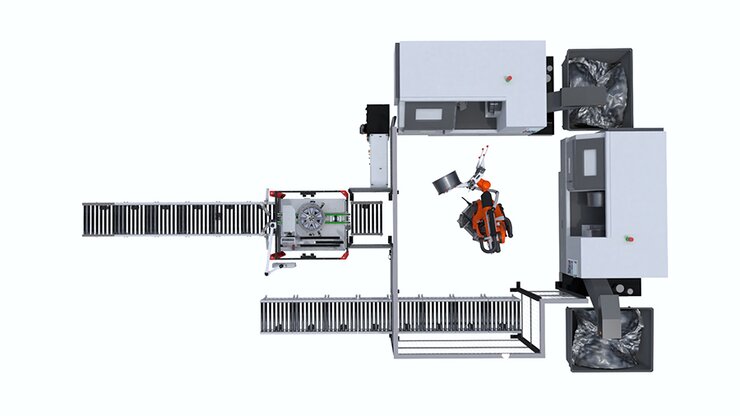 Robotic aluminium wheel machining cell