Installation of plastic inserts into ALU wheels

Modular automatic line for assembly of plastic inserts into ALU wheels.
ROBOTIC WORKSTATION FOR ASSEMBLY OF PLASTIC INSERTS INTO ALU WHEELS
BASIC CHARACTERISTICS
Thanks to its simple layout, the line can include one or two robotic arms. Using a state-of-the-art camera system for wheel orientation detection and its sophisticated co-operation with FANUC robotic arms, ALU wheels are flawlessly placed into automatic screwdriving stations where the plastic inserts are fixed.
The entire line system is powered by the TEMEX BlueLine conveyor system, adapted for greater endurance in automotive operations and dusty environments.
SYSTEM CHARACTERISTICS
The equipment requires the presence of only one operator and the intuitive control software allows flexible line setup for use on all wheel types produced. Thanks to the robotic arms, the line achieves a very efficient cycle time of 8.5 s/wheel in a two-arm design and can be used in 24/7 working mode.
DESCRIPTION OF THE ASSEMBLY LINE

1. Robotic arm 1 for wheel grip
2. Robotic arm 2 for wheel grip
3. Screwdriving station 1
4. Screwdriving station 2
5. Crawler conveyor system
6. Roller conveyor system
Key benefits of our solution:
Reduced operating costs
Reduced scrap rates
Increased production per unit time
Workplace savings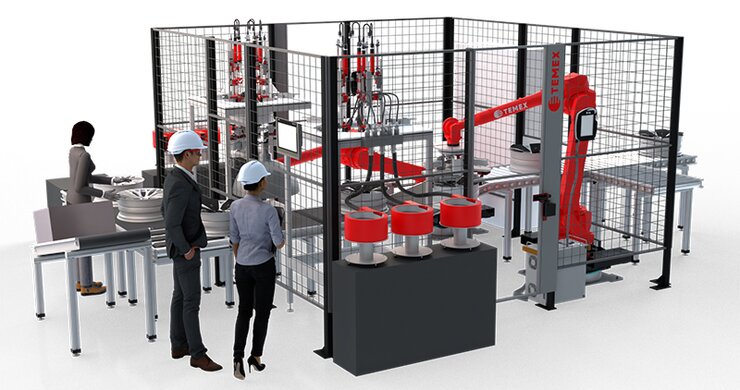 Visualisation of the line for assembly of plastic inserts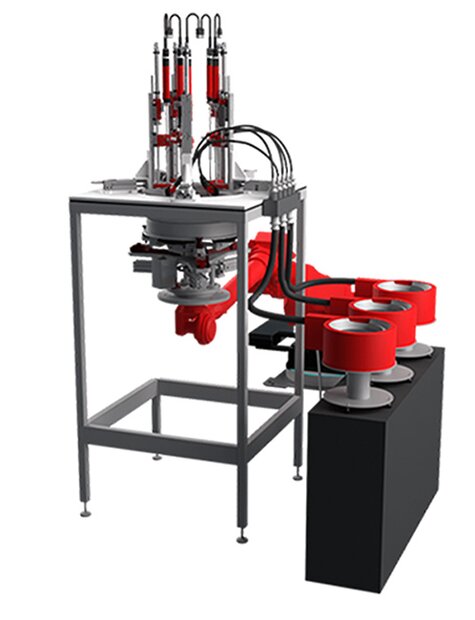 Screwdriving device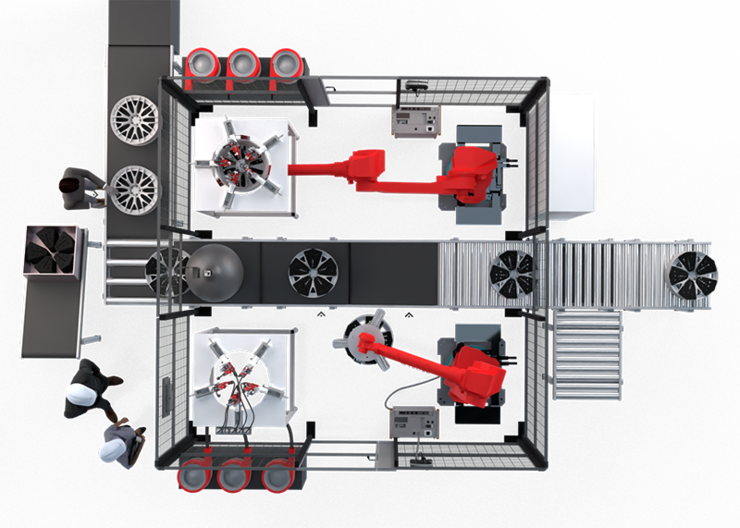 Visualisation of the line for assembly of plastic inserts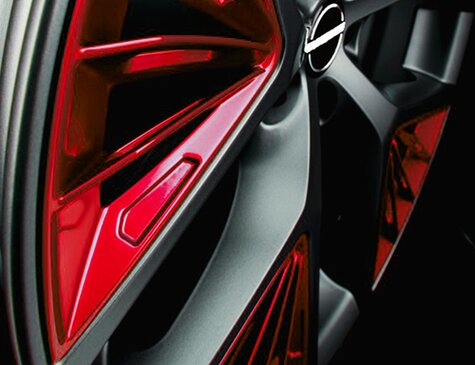 Inserts on ALU wheel