Pick and Place packaging line of chocolate candies


Fully automated packaging of single and mixed candies into boxes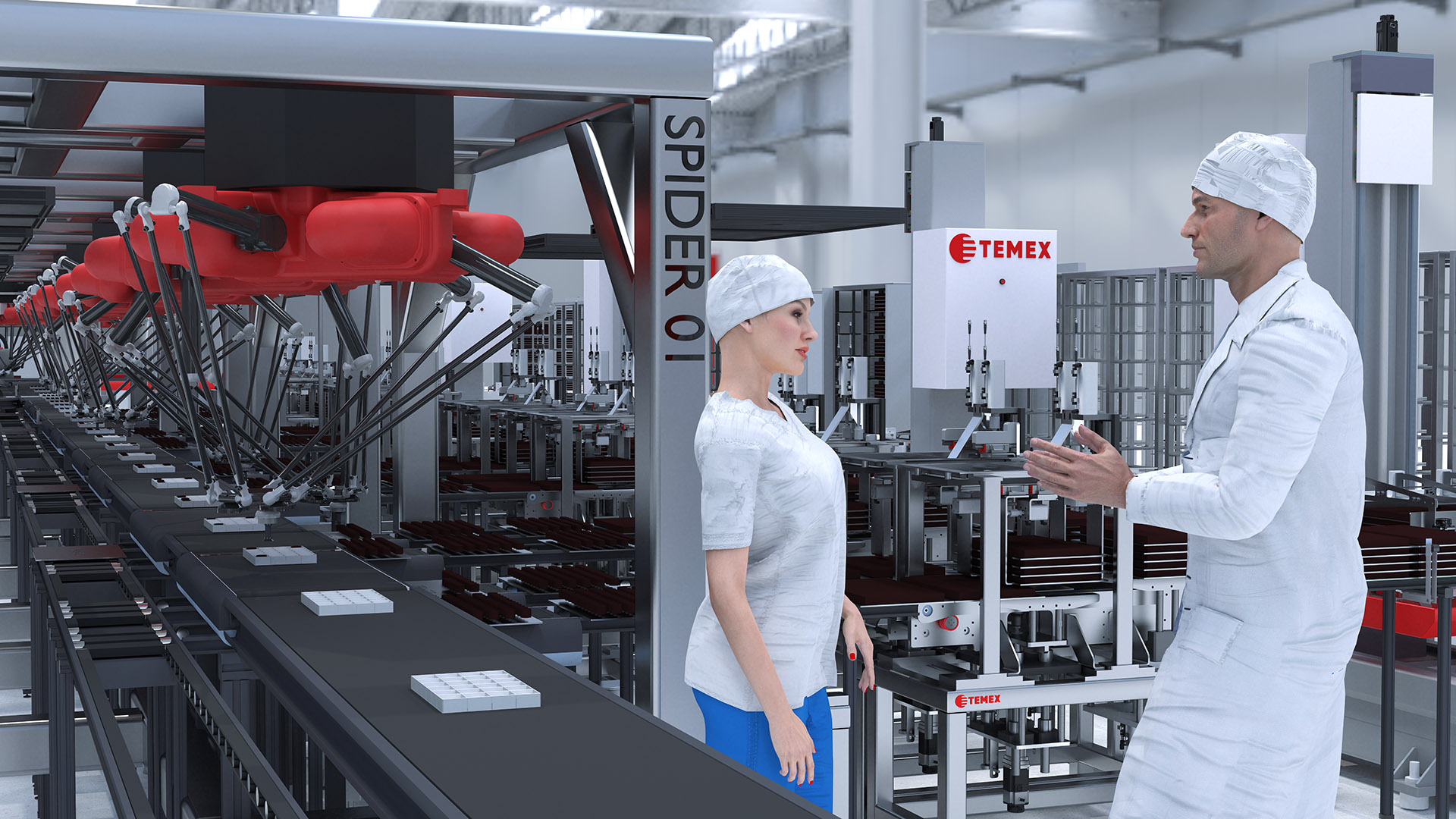 PICK & PLACE  PACKAGING LINE OF CHOCOLATE CANDIES
Name of contract:  P&P packaging line of chocolate candies
Delivery term:         In progress
PARAMETERS OF THE LINE
Line cycle:                                         * 0.6 sec / one inserted chocolate candy
Autonomous operation of the line:    min. 30 min 
Expected time of changeover:          <1 hour
* The cycle of the line varies depending on the type of gripper used.
BASIC CHARACTERISTICS
The P&P (pick and place) packaging line is used for fully automated packaging of single and mixed candies in boxes according to the specified production portfolio. The filled candy boxes will then be labeled and wrapped in transparent film. The candy boxes prepared in this way will be automatically placed in cardboard boxes, which will be closed, labeled and automatically moved by means of a conveyor route to centralized palletizing. 
The P&P line is fully automated. The replenishment of input components into the hoppers/feeders is done manually/automatically. The stock in the hoppers/feeders is dimensioned for at least 30 minutes of autonomous line operation, depending on the type of the input material. Each hopper will have sensors installed to ensure the minimum volume of material is present. When the stock of input material in the hoppers decreases, the line operator (replenisher) will be notified by an acoustic and light signal. If the input material in the hoppers is not replenished within a certain time from the signal notification, the line will be stopped automatically.
 
Layout of the line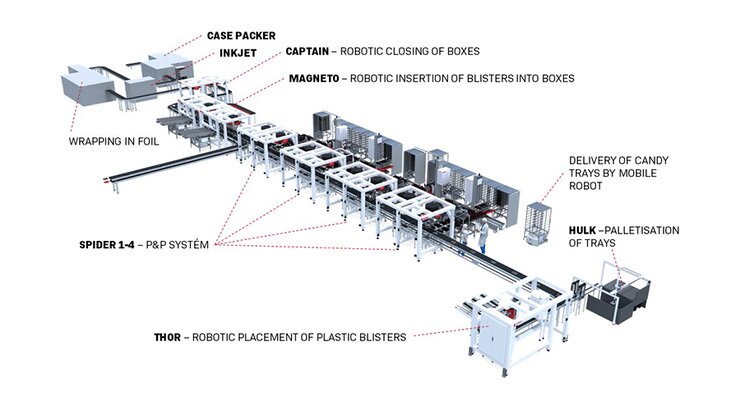 Inputs to the P&P line – manually loading the hoppers/feeders: 
• Bottom part of candy boxes laid out. 
• Lids of candy boxes laid out. 
• Multilayer covering papers. 
• Plastic trays for inserting candies. 
• Cardboard boxes laid out. 
• Transparent film. 
Inputs to the P&P line – automatically loading the line: 
• Unwrapped chocolates, stored on trays in handling carts. 
• Packaged chocolates, stored on trays in handling carts.
Output from the P&P line:
• Filled, closed, sealed and labeled cardboard box with candy boxes.
The line will consist of several standalone single-purpose machines, which will be interconnected by means of conveyor routes. Each of the machines (nodes) will be equipped with its own control system, including electrical switchboard. Communication between the individual machines will be provided by a master control system, which will not only monitor the operation of the line, but will also send requests for automatic replenishment/guidance of carts with chocolate candies.
 
Material flow of the line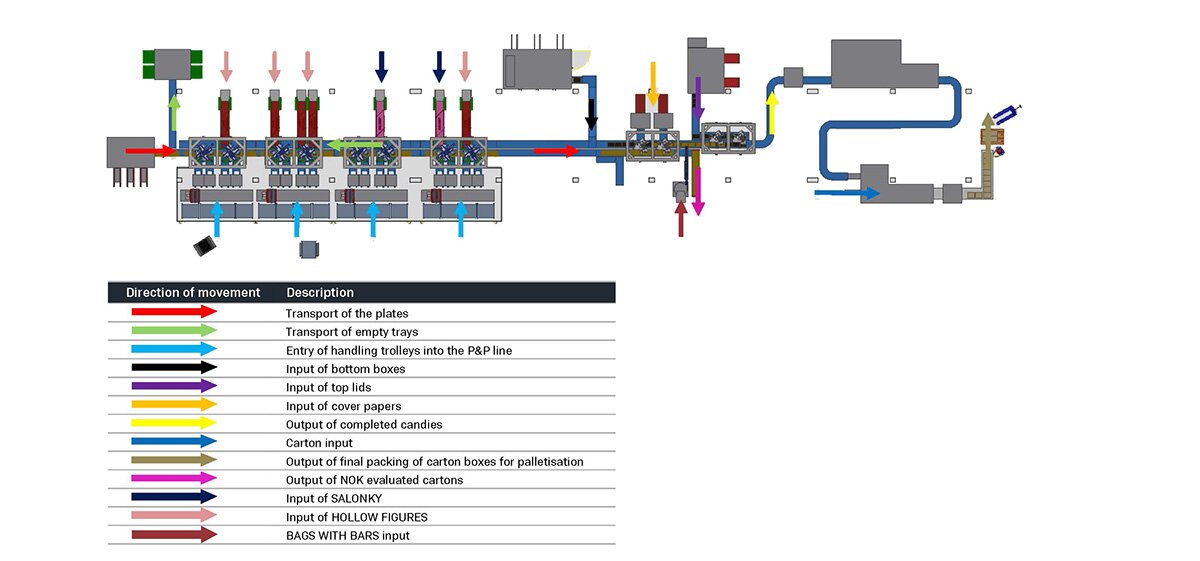 ​​​​​​
Part of the line with delta robots (SPIDER 1-4)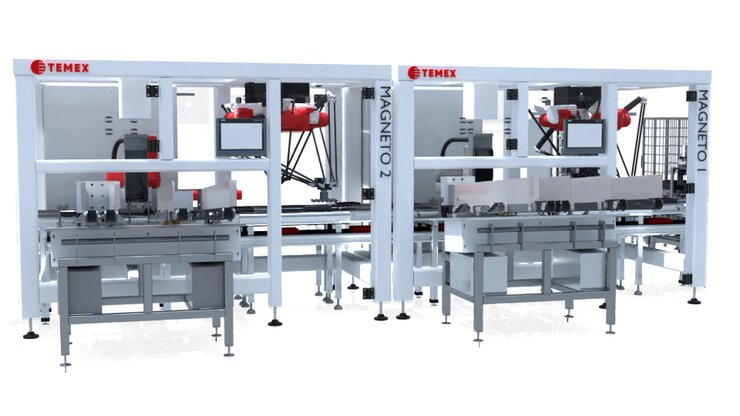 MAGNETO 1 and 2 – Robotic insertion of blisters into boxes
Universal vacuum gripper (for handling candies)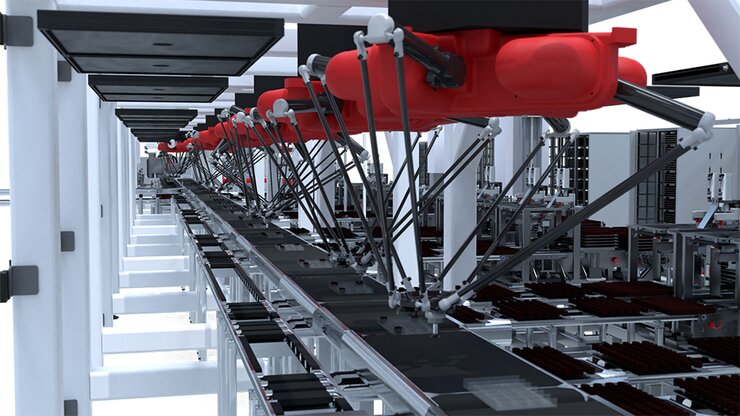 Robotic insertion of candies into blisters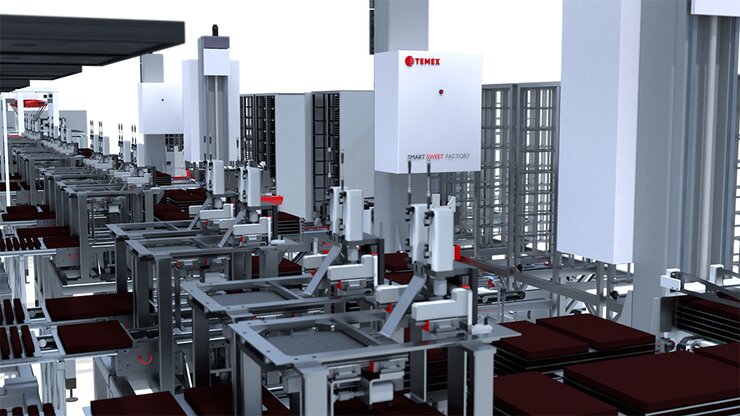 Robotic stacking of candy trays
                                               REALIZATION OF THE P&P CHOCOLATE PRALINE PACKAGING LINE