Assembly line for EGR valve

Automatic line with ionization blow and plasma cleaning system for parts when assembling the EGR valve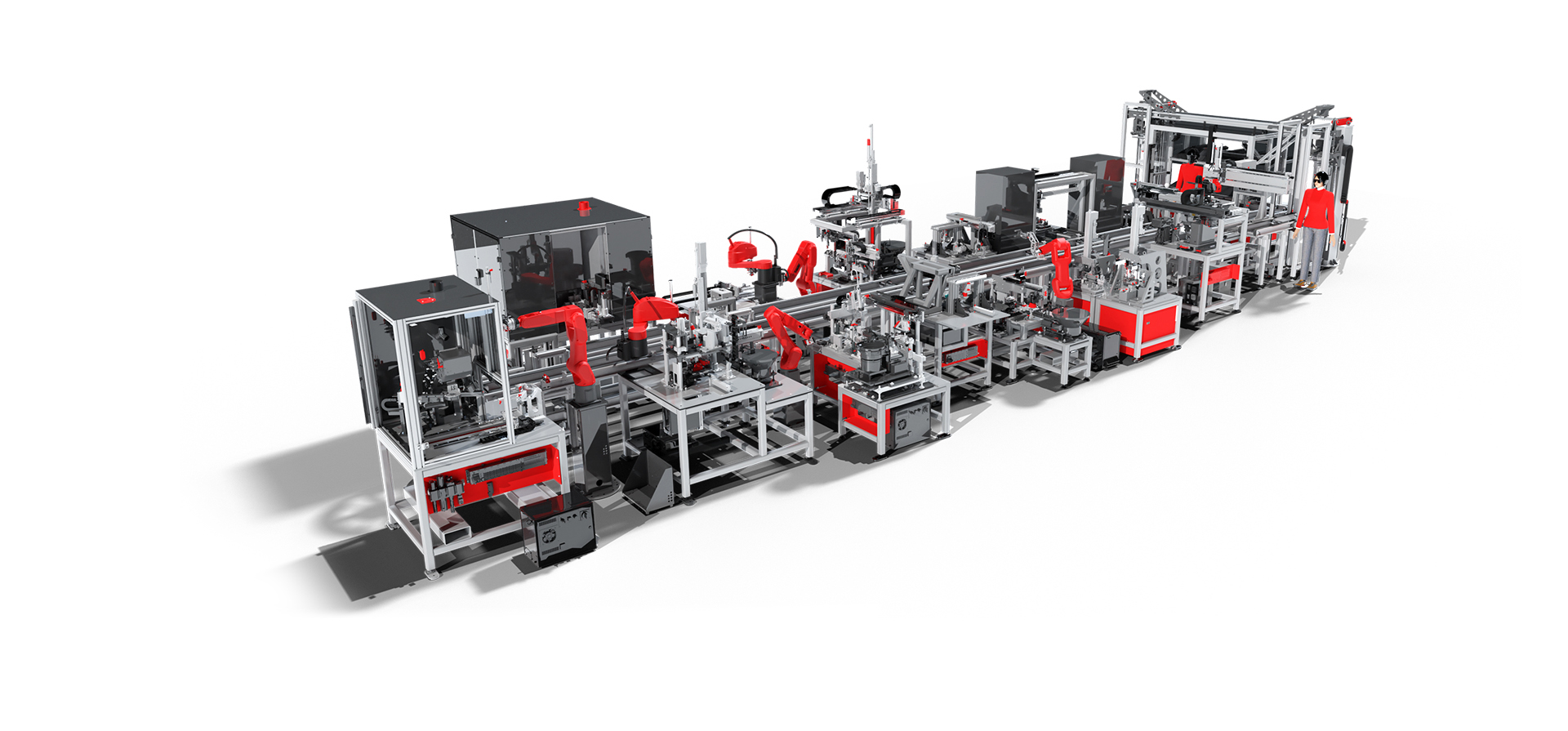 Basic parameters
View of the line (visualization)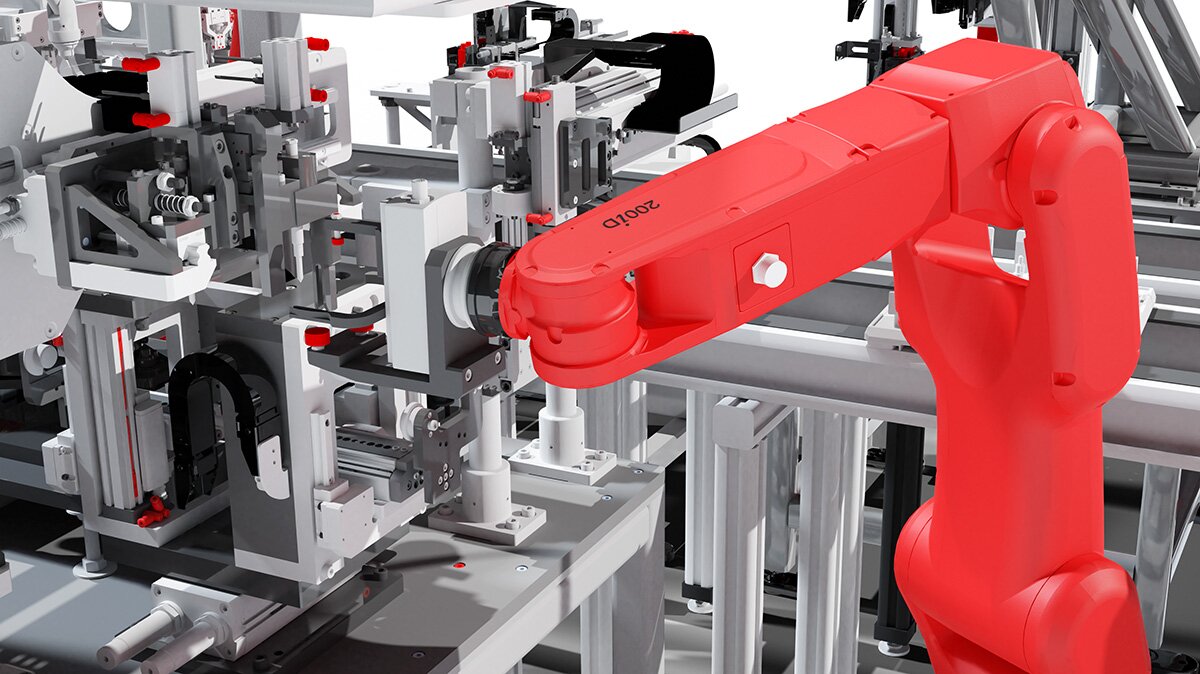 Part of a line with a robot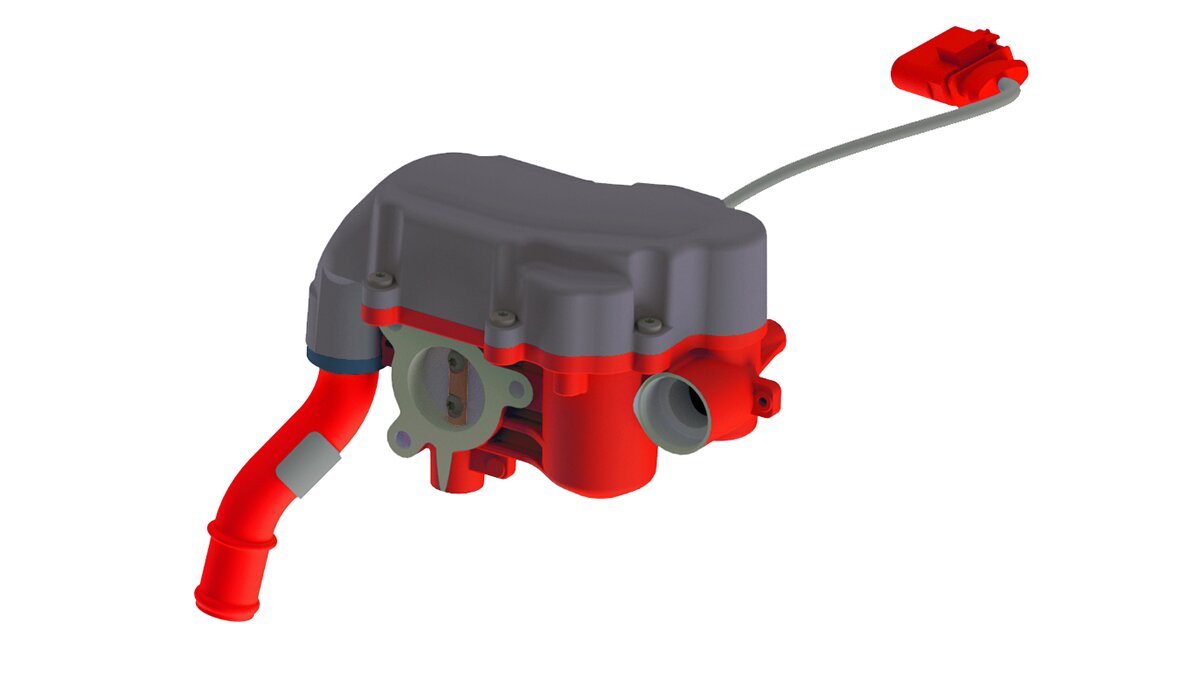 DELIVERY OF AUTOMATIC LINE FOR ASSEMBLY OF EGR VALVE USING ROBOTICS
Project Name:                       Assembly line for EGR valve VW T6 LP
Term of implementation:     2018–2020
SPECIFICATION:
The project started based on customer request and step by step improved in subsequent technical negotiations -where the final assignment by the end user.
The main customer request was to improve quality, saving labor and increasing productivity.
SOLUTION:
Cycle time:        50 s / pc
Operator staff:   2
PROCESS DESCRIPTION:
Loading of valve components by operator on pallet on ST1 including checking of presence and correct insertion of all pieces by vision system.
Automatic laser marking of a piece with the DMC code on ST2 including verification of the DMC code using an automatic reader and writing into the traceability system.
Automatic cleaning and activation of parts surface using plasma technology on ST2.
Automatic application of the functional membrane to the marked position on the HOUSING with verification of the position of gluing using vision systems on ST2.
Automatic assembly of SHAFT / C-CLIP / BEARING and its insertion into HOUSING, bearing pressing by servo presses on ST3 and ST4. Parts handling by 6-axis robot.
Automatic air leak test over pressed bearings in HOUSING on ST5.
Automatic flap assembly, automatic free space adjustment and automatic screwing of the piece on ST6. Parts handling by 6-axis robot.
Automatic picking and pressing of DC MOTOR and its subsequent assembly into HOUSING on ST7. Parts handling by SCARA robot.
Automatic assembly of SECTOR GEAR into HOUSING, its placement and automatic laser welding on ST8. Welding in argon atmosphere. Parts handling by 6-axis robot.
Automatic glue application into SECTOR GEAR by screw feeder, verification of correct application by vision system, activation of glue by UV lamp, automatic magnet installation and subsequent measurement of magnet flatness after installation by profilometer on ST9. Operations are performed on a 6-position turntable.
Automatic installation of the INTERMEDIATE GEAR part on ST10. Parts handling by SCARA robot.
Automatic assembly of HOUSING using O-RING, subsequent assembly of HOUSING and COVER and each to other fixation using an automatic screwdriver on ST11. Parts handling by 6-axis robot.
Automatic air test of valve on ST12.
Automatic EOL tester including valve chip programming on ST13.
Automatic cap pressing using servo press on ST14.
Automatic laser marking of the valve with customer label on ST2.
Manual removal of valve from line by operator on ST15. Following semi-automatic assembly of the connection cable using a manual electric screwdriver and an electrical test. Manual storage of the complete VW T6 LP EGR valve in the customer packaging.

BASIC CHARACTERISTICS:
Automatic line of own design.
Pallet conveyor for transport of parts – BOSCH TS2.
Vision system COGNEX + lighting SMARTVIEW.
DMC code readers COGNEX.
RFID technology for traceability TURCK.
Ionization blowing of parts on the pallet LONTECH.
Laser description of parts including exhaust unit SIC VENIM.
EPRIN membrane remover.
LONTECH Plasma Cleaning System.
FANUC robots with grippers of our own design.
Manipulators of our own design.
Vibratory feeders for input parts ROX.
TOX servo presses.
ATEQ air testers.
FESTO vacuum and pneumatic technology.
Electric screwdrivers with fully automatic screw feeders DESOUTTER + STÖGER.
Analogue measure systems KEYENCE.
Electric servo axes FESTO.
RAVEO servo drives.
Strain gauge force measurement HBM.
MEATEST torque measurement.
Laser welding with TRUMPF TRUE PULSE using TRFOPF PFO 2D head.
Turntable 6-positions WEISS.
Glue application by ECOPEN screw feeder with replaceable cartridges.
Measurement using the profilometer METRALIGHT.
EOL valve test and programming using EMTRONICS and MELEXIS technology.
HW – SIEMENS SIMATIC S7.
Covering of our own design from ITEM aluminum profiles.
Key benefits of our solution:
Scrap rate at the border to 0 %
Assembly of the product in shortened terms
Elimination of manual inputs to the product assembly process
Labor savings - this line is fully automatic and replaces work for X workers
Costs reduction for radiator assembly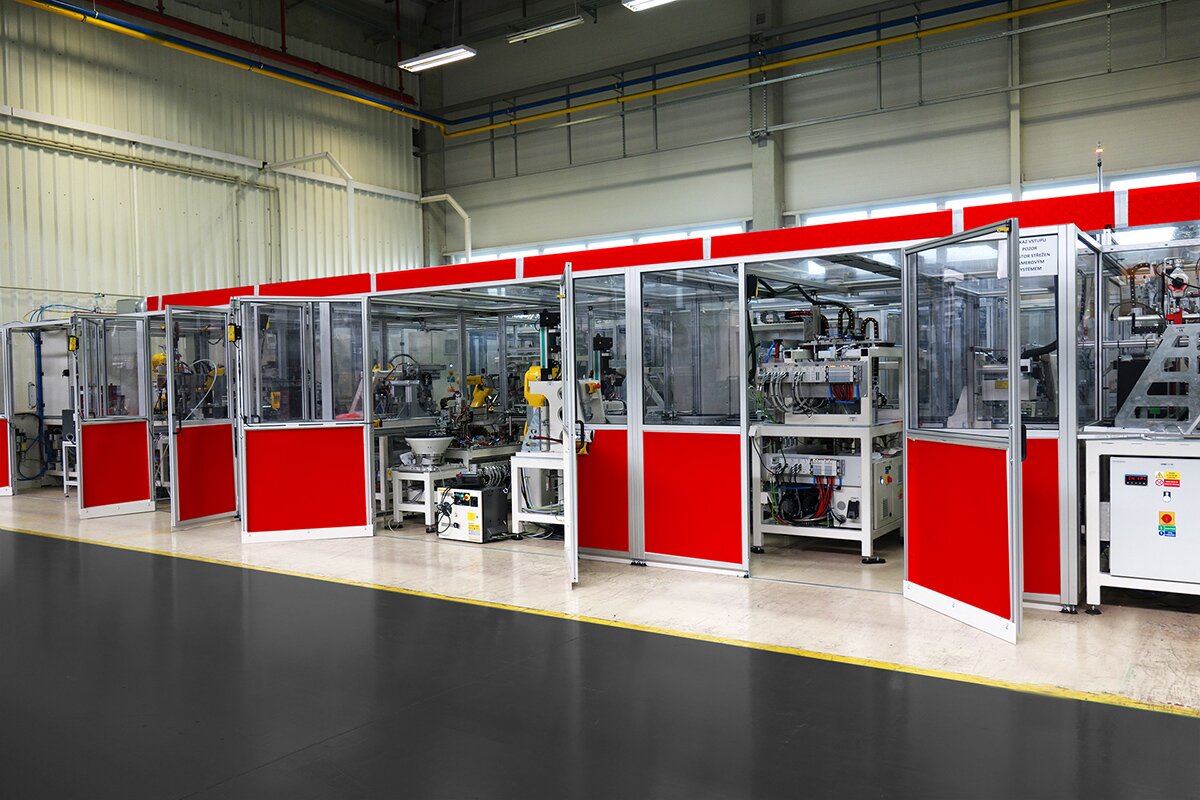 Celkový pohled na linku z realizace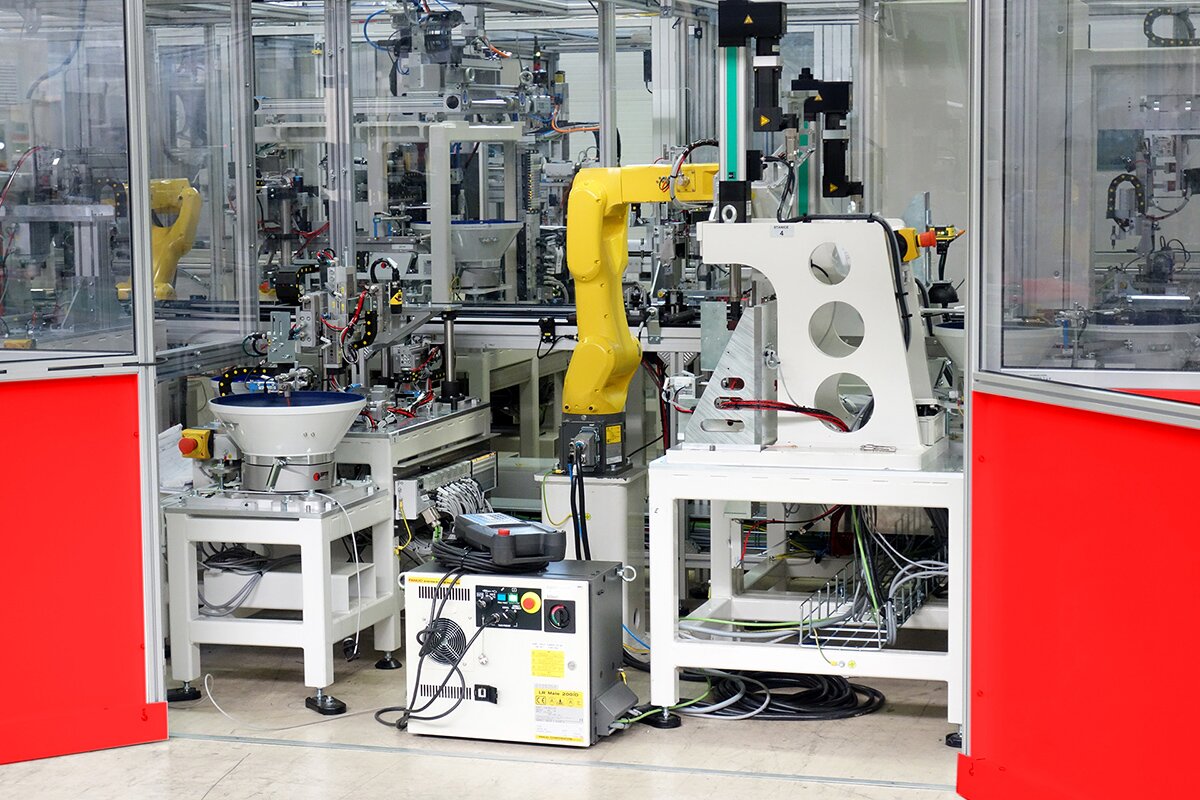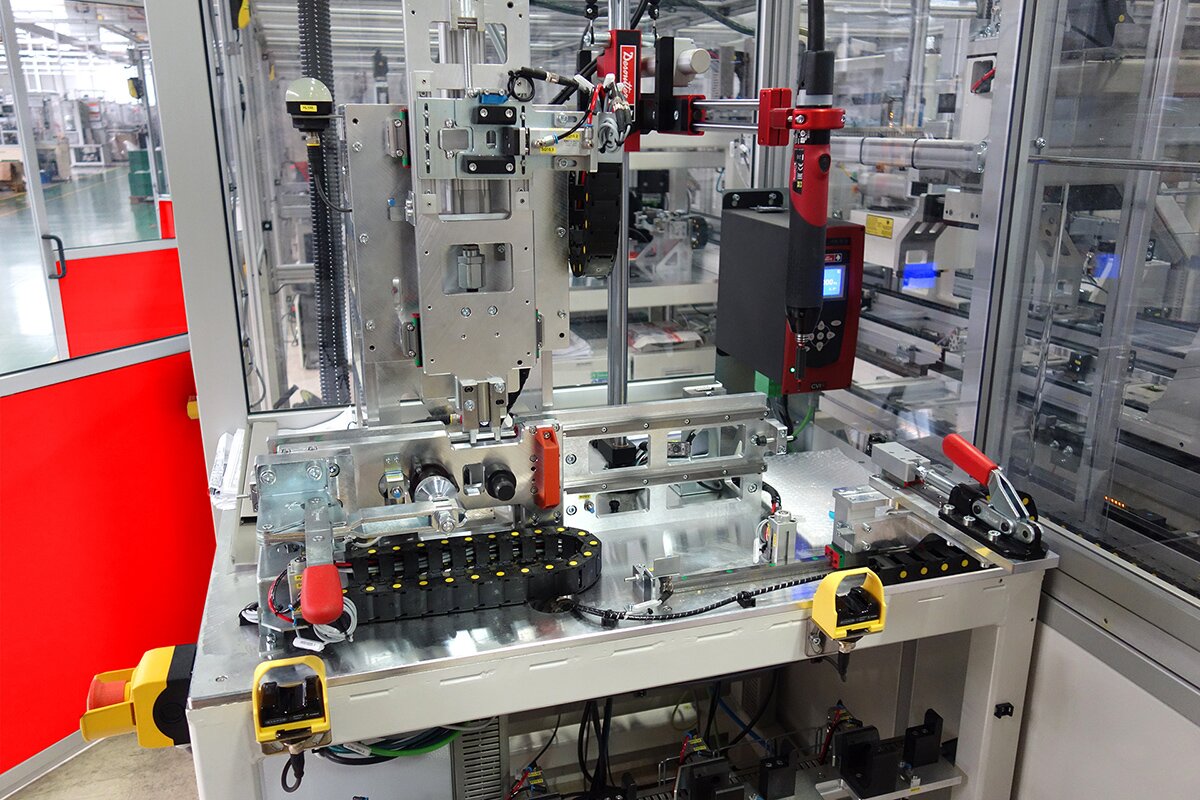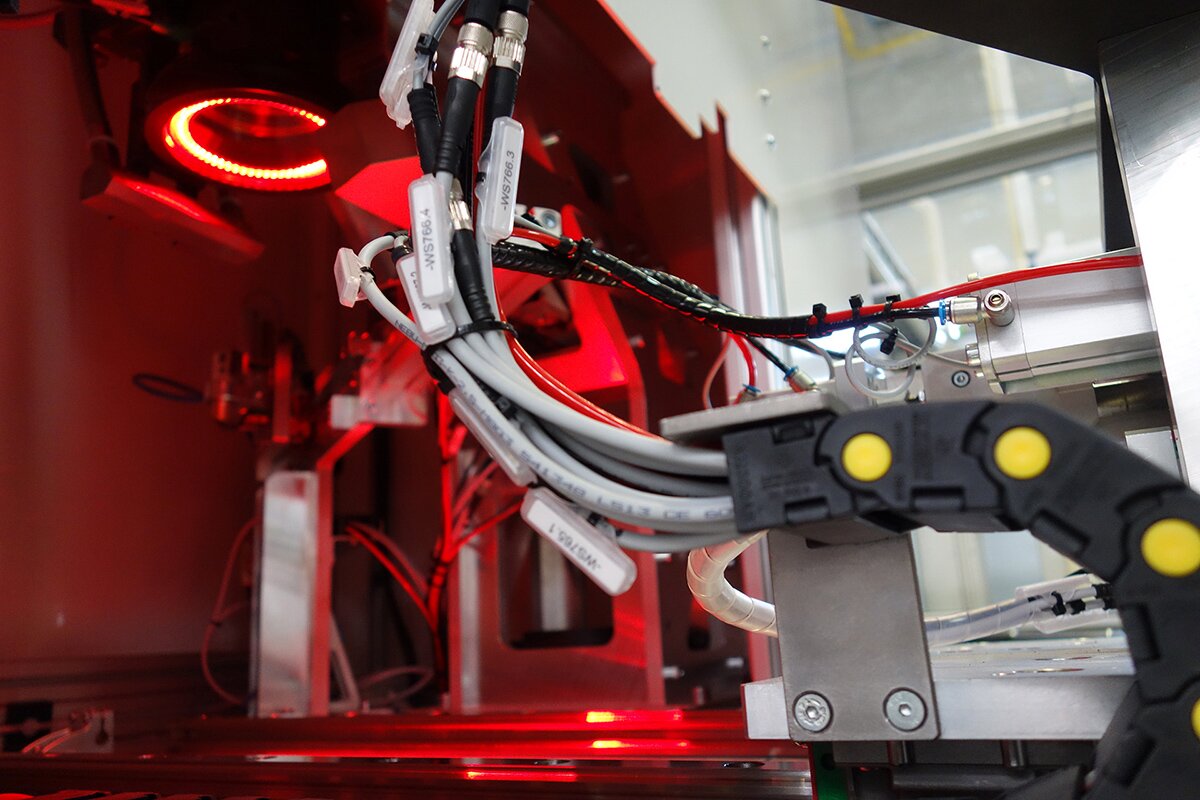 VISUALIZATION OF THE EGR VALVE FUNCTION AND ROBOTIZED LINE FOR EGR VALVE ASSEMBLY