Checking the cooler by a robotic camera system

Fast, dependable and a universal solution for the comprehensive inspection of assembled products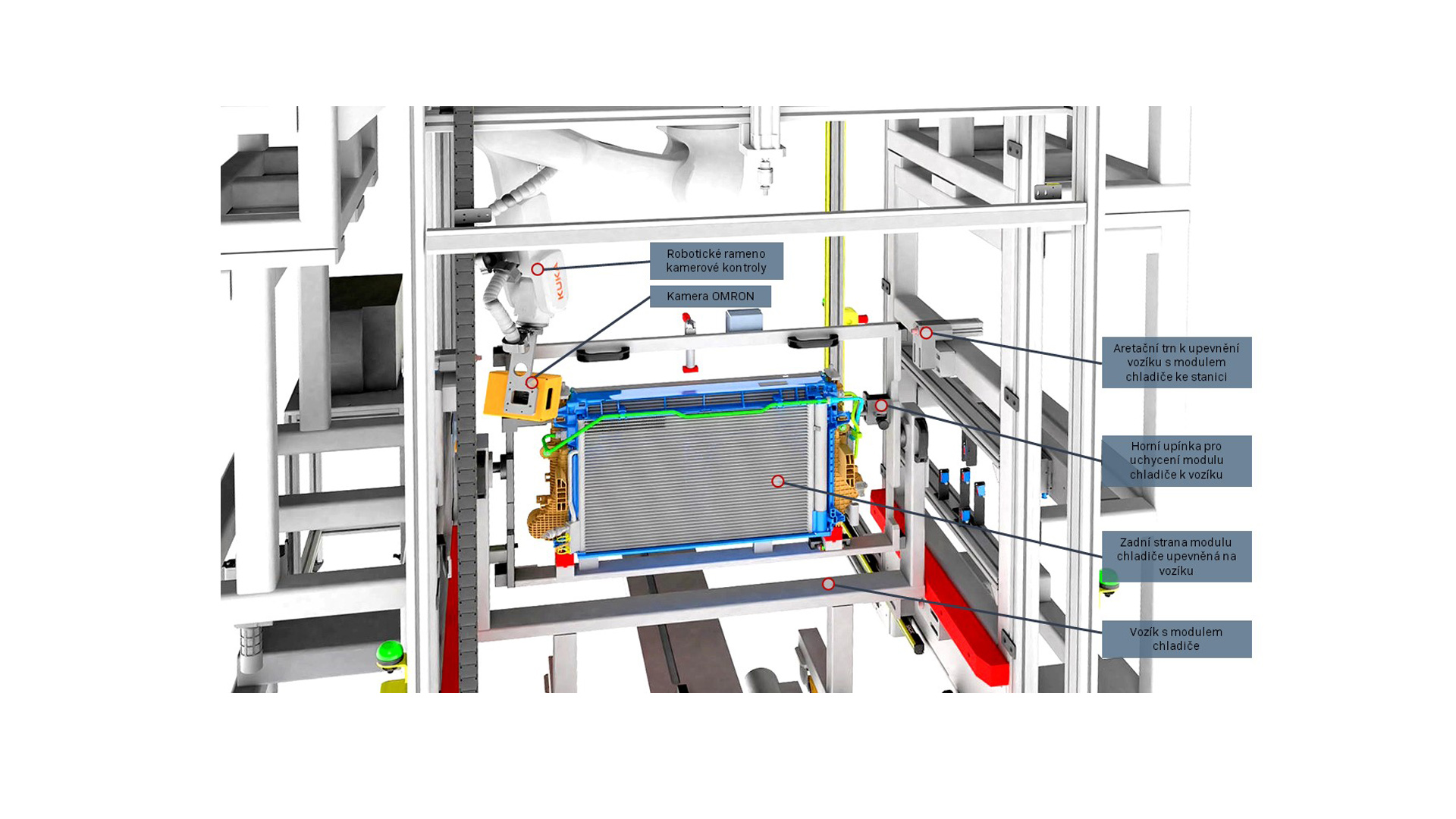 Basic description of the station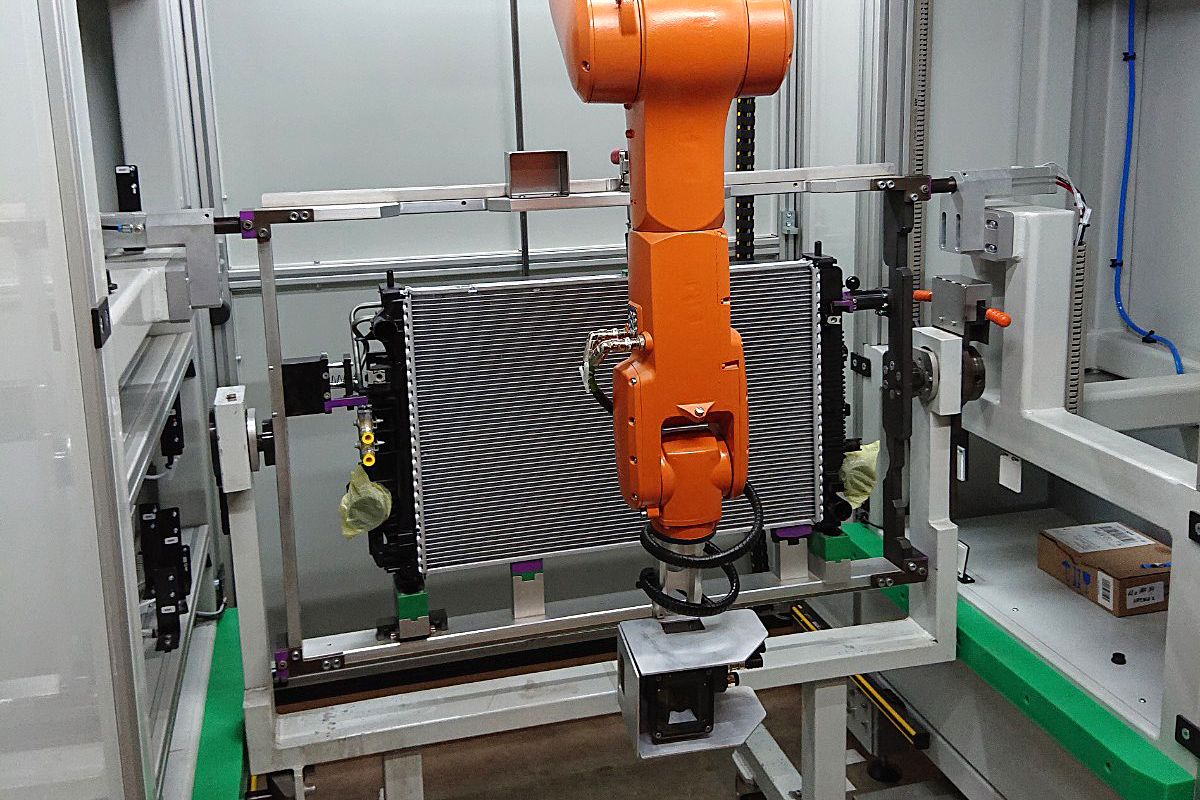 KUKA robotic manipulator with OMRON camera for checking the front part of the cooler module.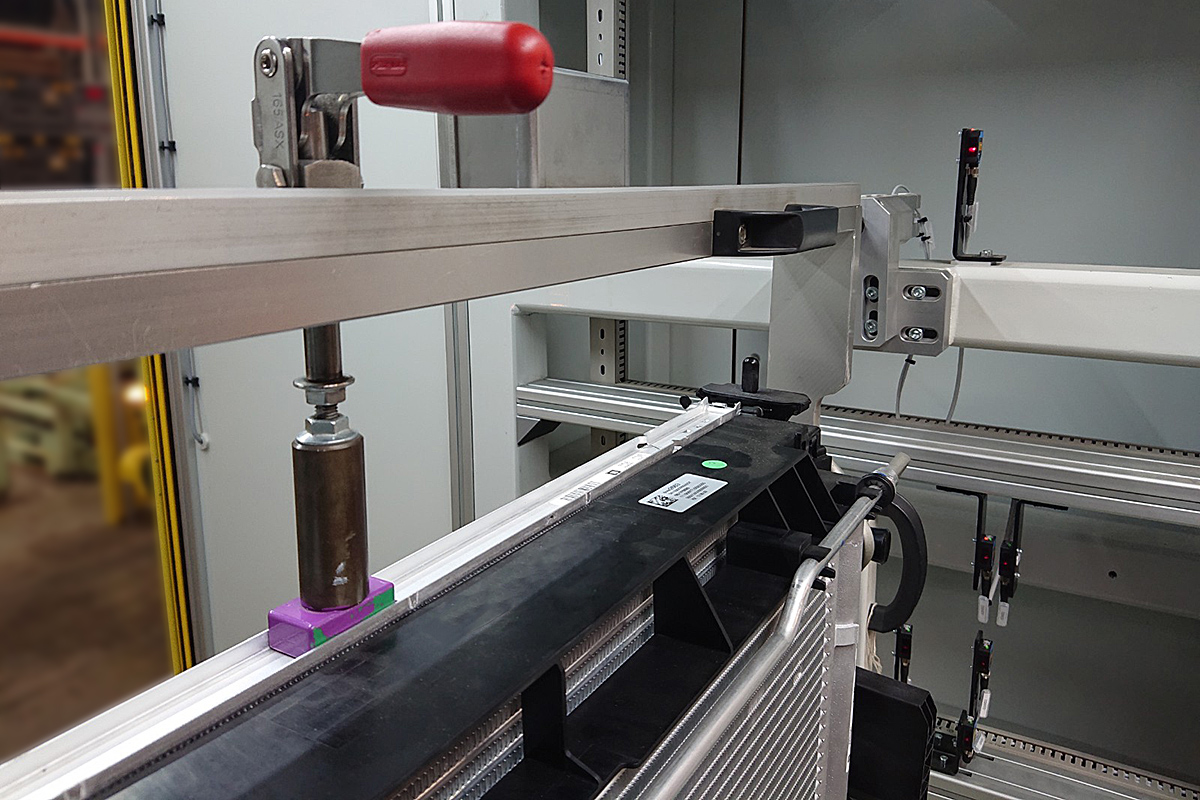 Ensures the piece is correctly clamped on the trolley.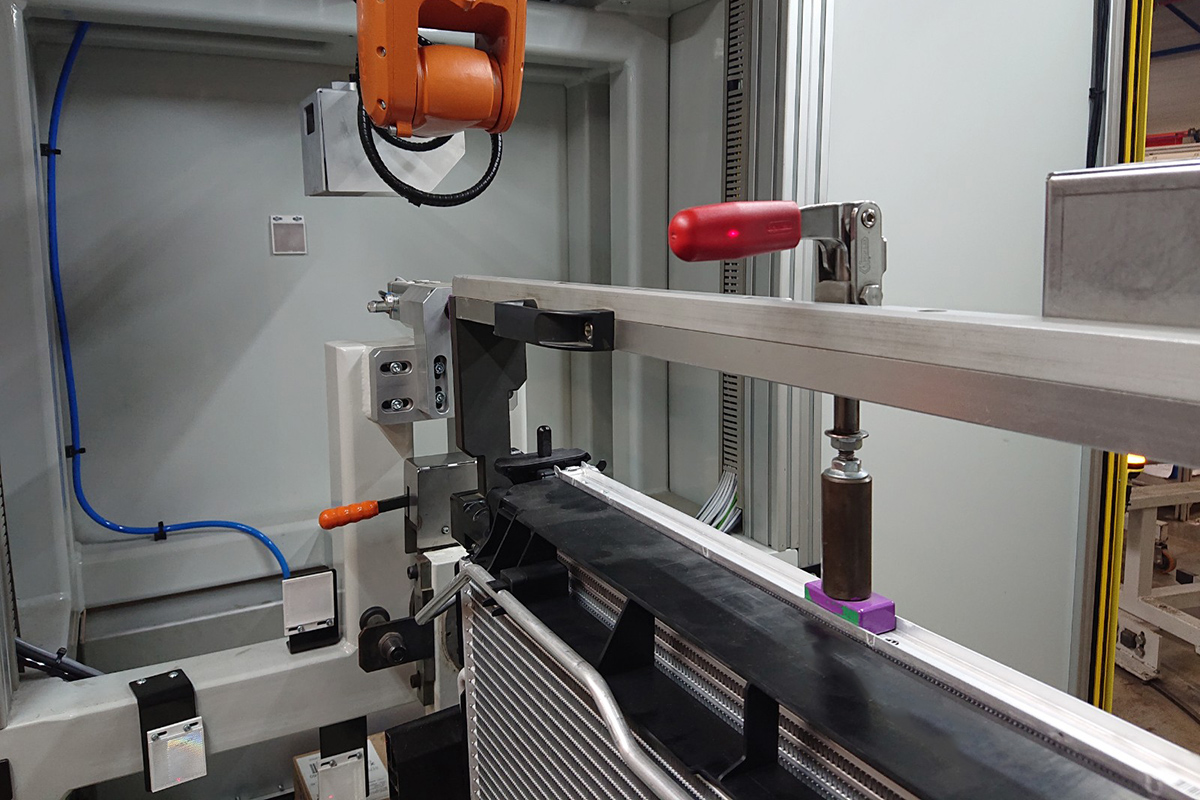 Securing the trolley with the cooler module to the station.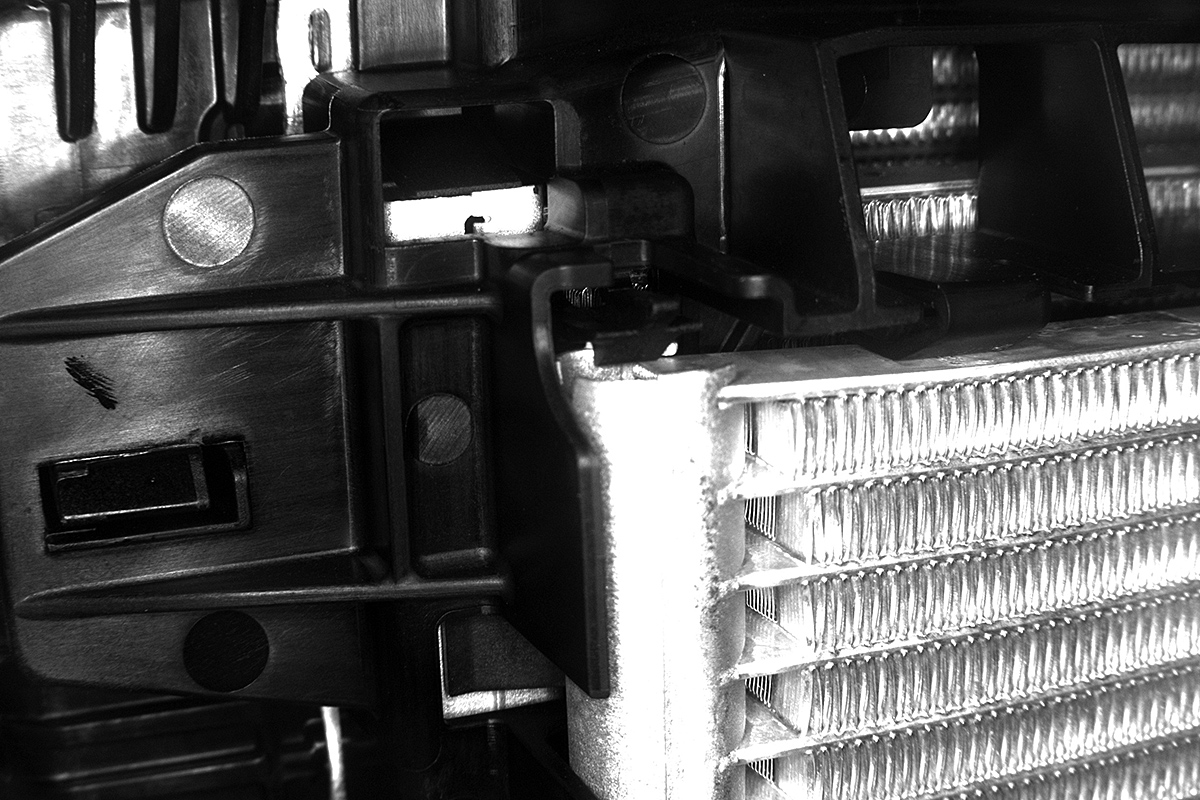 Monochrome output of the controlled cooler module.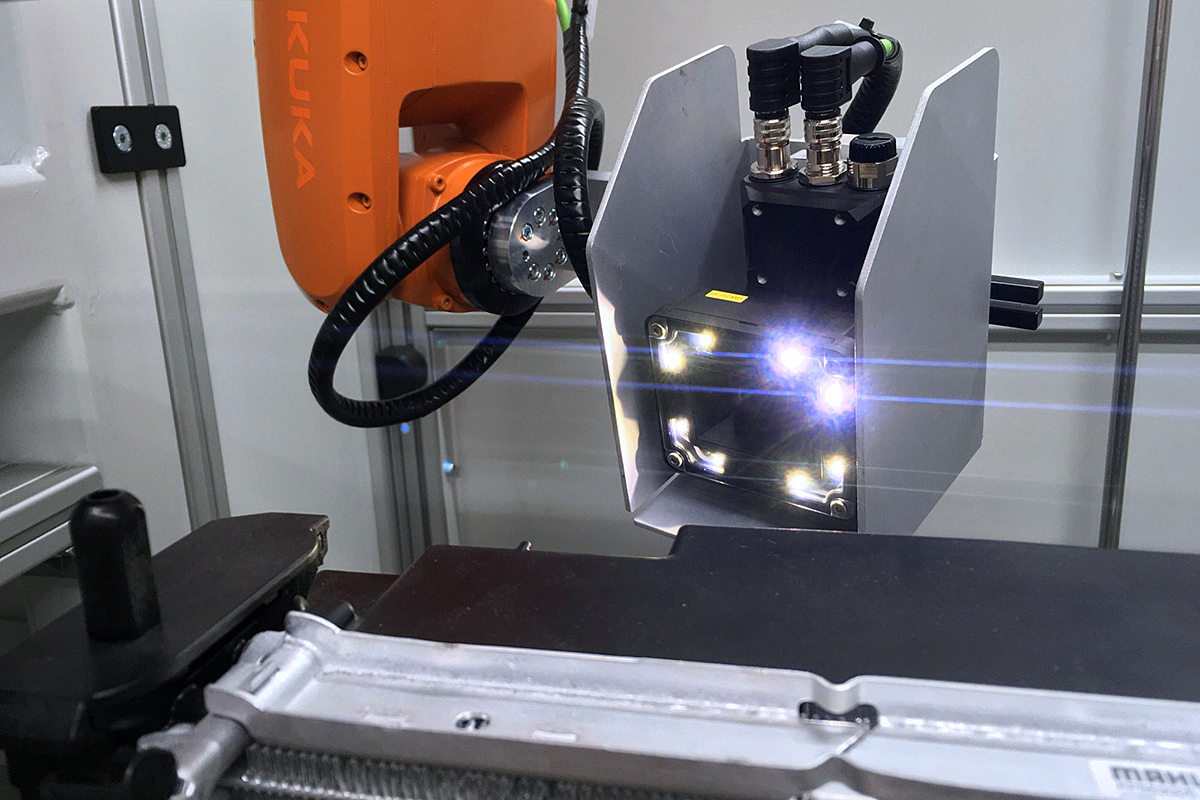 OMRON smart camera with LED illumination.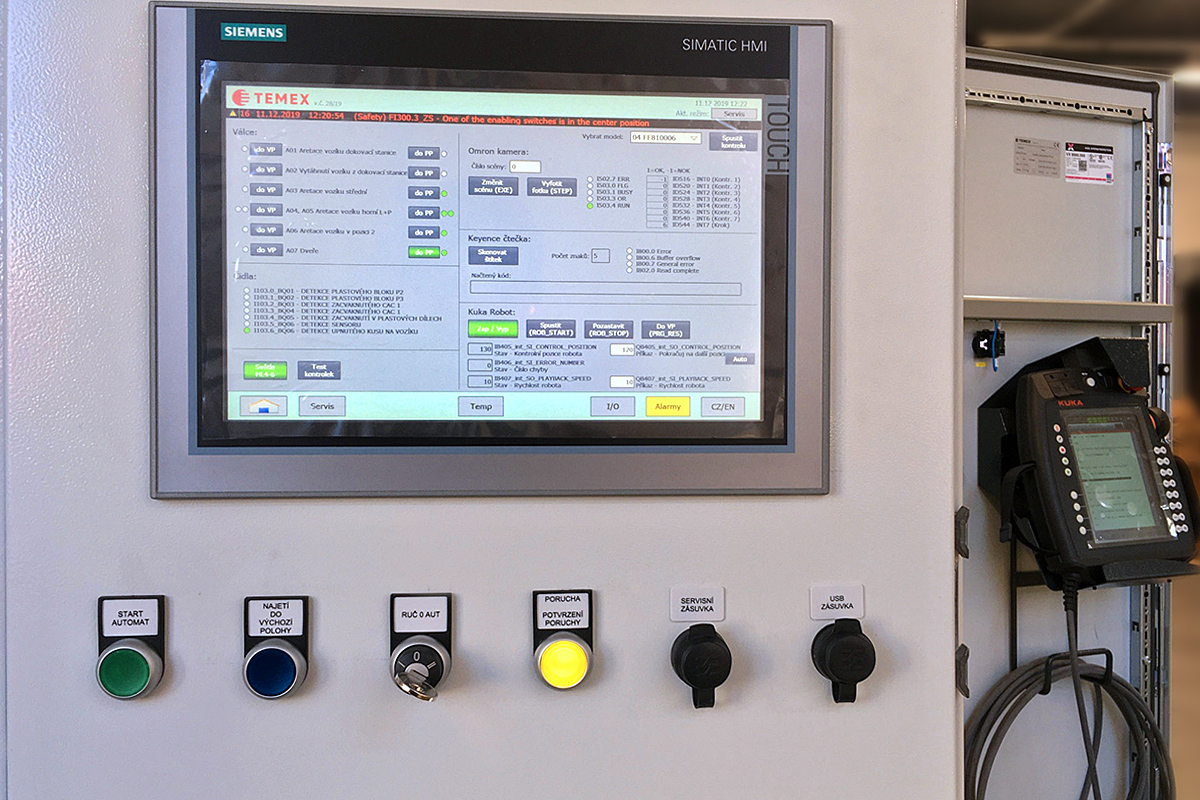 Switchboard with Siemens TP1200 Comfort operating panel.
Get to know cutting-edge technology in the field of camera inspection – robotic test station!
This station is used as the final test for the presence of individual components in the the Kuka robotic manipulator and also by means of optical sensors mounted at the station.
Automated mode
When the machine is switched on, the cylinder for locking the trolley in place extends, making it possible to insert the trolley with the cooler. The cooler module must be secured in the trolley by the upper clamp. The safety of the process needs to be confirmed by using the "Operator safe" button. The station tests the inserted piece and in case of OK the trolley moves to position 2 and a label is printed. This label must be affixed to the cooler, the barcode reader will read the label and check to see that the label is correct. The trolley will then be released from position 2 and the operator can pull it out.
Inspection process
The EOL station performs a total of 54 unique checks on the cooler based on the Mistake-Proofing list. Four of these inspections are performed using five laser sensors. One check is performed using one optical sensor. All these sensors light up against the reflector. The remaining 49 checks are performed by a camera test. The test is divided into a total of 19 images (position of the robot).
Side 1 is the gate from the door (entrance), side 2 is the gate from the barriers (exit). All checks are done for all coolers, which is to say both variants are checked – to ensure a required component is not in the cooler if it is not supposed to be there, and that the required component is in the cooler if it is supposed to be there.
The camera inspection is done with an Omron camera, which communicates via the PROFInet interface. The camera has a microSD card for storing images, software backup and documentation.
The camera works on the principle of finding a certain object based on a sample, or measuring the distance from a certain element. In each case, the image first undergoes compensation due to the differences in the trolleys.
Why a test station from Temex?
Reduces operating costs
Reduces scrap
Improves the repeated quality and level of products
Increases production per unit time
Saves jobs
An inspection record is stored for each piece
CHECKING THE COOLER BY A ROBOTIC CAMERA SYSTEM (VISUALIZATION + REALIZATION)